I have been writing this blog for one year. I actually started writing it shortly before the Corona Virus reached Europe and governments took the first lock-down measures. As one year is a milestone it's good to reflect on it and see how it has affected my life and my thinking.
The fact is the Corona Pandemic has affected our lives tremendously. The list is long.
So, I asked myself: was there anything positive about last year?
Why am I asking this?
For one, research backs the positive effects of positive thinking. Studies confirm the positive links between mindset and measures of health and happiness. And yet research also shows how human beings are prone to negativity. This is the so-called negativity bias i.a. the tendency to respond to negative rather than positive information. Economic, cultural, and personal losses caused by the crisis may exacerbate such feelings and positive thinking alone cannot prevent them from occurring. It is nevertheless (or perhaps therefore) important to develop strategies to stay healthy and sane.
Thus, here is my list of positive moments, arranged as recommendations. I also asked others if they can join me in this exercise and include some of their comments in my list.
I'm sharing it with you, hoping it will provide inspiration in these, as we all agree, unusual and challenging times.
Take care of your needs
Perhaps the best part about 2020 was that priorities shifted overnight. There was of course the initial shock, but soon came the realization that there might be advantages to not having a fully packed agenda.
In March I wrote a blog "Coronavirus, Agile Work, Deceleration". I had just attended a conference when the first lock-down came. Many events had been canceled and I reported the first impressions of relief among colleagues. I suggested then that it would be good to take this chance to pause.
I wrote this but it took me a while to follow my own advice. Sure, many planned activities had been canceled, but others came, just in an online format. I, like many others, wanted to stay connected and was happy to attend many events that I probably would not have attended in person. Not all of them were good. I slowly started getting the impression that this proliferation of online meetings and events is because we as humans find it hard to not be busy. This motivated me to write some more on "How to make Homeoffice bearable during Corona-times". Just because we are physically at home doesn't mean that we have to say yes to every online invitation, while trying to juggle newly added responsibilities as housekeepers, teachers, cooks. It is okay to not be busy all the time.
This quote summarizes it best:
Grow your career
My personal favorite this year was the growth possibilities. The new circumstances had cast some old plans overboard, so it was possible to finally ask ourselves:
Where am I headed professionally?
What is it that I always wanted to do but never had the time?
What can I do for myself now?
A lot of online courses were being offered under a Corona-Discount – meaning for free – and I suggested seizing this opportunity in my blog on Digital Learning (which I wrote in German). I myself decided to grow my data skills and successfully completed 4 Data Science courses.
The pandemic accelerated how digitalization is affecting our work and not just in an organizational way. In my blog on the future of work, I argued that it has become increasingly important to improve our digital skills. I also discussed this as a guest at the Virtual Coffee Break of the Alumniportal Deutschland.
Which skills exactly will be required for which jobs?
How to decide what is the right choice and where to start?
These were the two main concerns of the participants.
Throughout the year I started writing on how professions and skill requirements change as well as what new professions emerge as a result of digitalization (ethical hacker). Given the interest, I intend to continue this in 2021. Next blog-posts are planned on the developments in STEM fields, in which I will share some of my research findings.
Grow your network
After a few months into the year, there was already growing fatigue of virtual meetings, so I suppose this is why many organizers started developing creative ways to engage with participants. And this was not limited to official events. Thanks to virtual coffee breaks, virtual break-out rooms (in Zoom), or virtual working spaces (via Padlet, Miro etc.) it was possible to spend more quality time with others. I for one definitely did not miss the coffee-breaks in "real" conferences where most people dread small-talk and end up sticking to familiar faces.
I met various interesting individuals in my online endeavors. And I wasn't even aware that I had been networking as I just enjoyed having interesting encounters. But, my 101 new connections on LinkedIn are proof of this (I wasn't aware of this until I received my annual LinkedIn Stats). I think I had never expanded my network so quickly on an annual level before.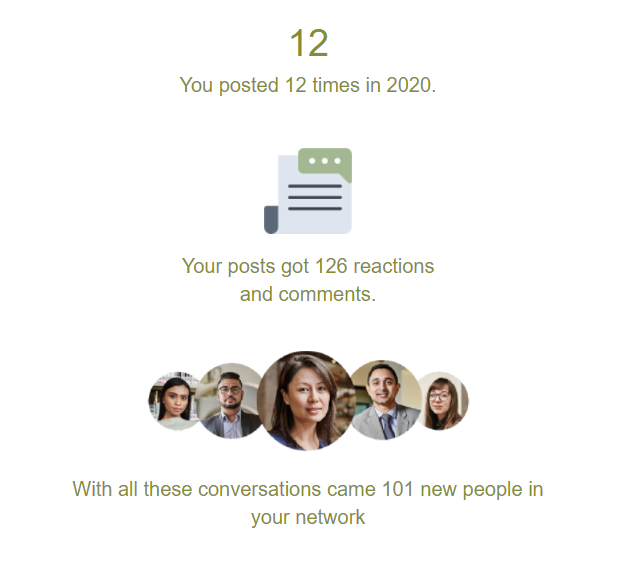 My highlight was becoming part of European Women in Data. I met some wonderful and very competent women and am looking forward to working with them on increasing diversity in data careers.
Live
Except for a couple of summer months, we had to live in a perpetual state of lock-down. Having to stay at home both for work and for leisure intensified the demands for a healthy work-life balance.
Many people I know got a pet to keep them company. Some discovered new hobbies you can easily do at home, like cooking or drawing. Some chose to do more yoga or start meditating. We all re-discovered the outdoors.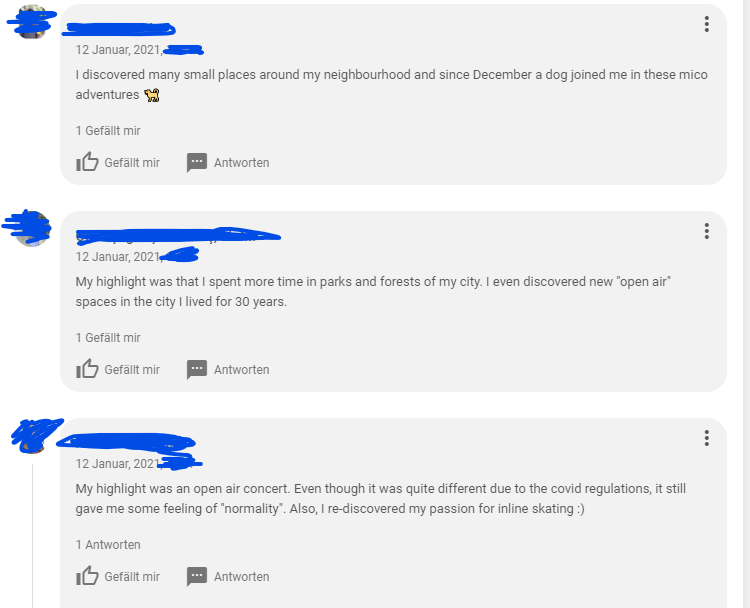 While family time was physically limited to a few persons, we could stay connected thanks to various digital tools. I even reached out to some friends of mine, with whom I had lost touch. We would have probably not reconnected, had it not been for the crisis.
I realized that I can find joy in really small things. My morning coffee brings me so much joy. I look forward to picking up my lunch and chatting with my favorite baker – it's crazy!
…
This reflection exercise made me realize that despite the extraordinary circumstances, it was possible to focus on the positive. And that excludes the vaccine – which was the most positive breakthrough in the fight against the virus.
It's really hard to stay positive and motivated, especially if you're facing a personal loss or experiencing a professional struggle. It's a daily challenge.
I hope this humble invitation to join me in this exercise helps you discover your own highlights that can give you guidance in the year ahead.
Now go ahead and write your highlights down.